MuttSnacks is a small "dog & pop" operation making treats for our dogs and yours right here in our small kitchen in Scotch Plains NJ.

I started making treats in 2007 after adopting my first rescued pup "Augie Doggy".

Wanting to do the right thing, I set out to find food and treats that would provide a healthy balanced diet for the "Augie Dog", but was quickly overwhelmed by the avalanche of information and mis-information out there with regards to the health and nutrition of my new furry family member and best friend. I bought books, asked other dog owners, read label after label after label, and googled till the wee hours.... Every answer I found just seemed to bring up more questions.... everyone seemed to be either trying to sell me something, justify their own choices, or push some other agenda.... Amidst it all, many contradictions. I considered it all, from Raw Food Diets, to Vegan Doggy Cuisine, and everything in between..... But I didn't want to change my life... I just wanted to get the low down on what my dog really needed when it came to nutrition and health. After learning a bit about pet nutrition, I was able to easily settle on a quality dry food to meet his nutritional needs, but was again daunted when it came to treats and snacks. There are huge differences in the content, quality of ingredients and cost of doggy treats and snacks. The sheer number and variety of snacks is overwhelming, and like many of the labels from my dog food research, i felt like I needed a PhD in chemistry just to make sense of the ingredients list.

I firmly believe that "Every dog deserves a healthy treat, good dogs deserve several...." and like to use treats for training as well as frequent re-enforcers for good behaviors... I wanted to be able to give my dog treats without sacrificing his health and nutrition. Even many of the snacks advertised as all natural, still contained many ingerdients and fillers that are not really good for your dog. I was looking for snacks that wouldn't cost an arm and a leg, and would actually containg natural high quality ingredients that were not harmful to my dogs health and nutrition. Sadly, i was unable to really find any snacks or treats that met those standards.
I immediately realized however, that I could easily make healthy, nutritious and inexpensive snacks for my dog and take out all the guess work.

Mutt Snacks was born.

The snacks have changed over the years, and we are always testing new formulas and varieties, but we are committed to creating only 100% All Natural, healthy doggy treats at a reasonable price. Because "Every dog deserves a healthy treat !"

Who We Are:

Augie Dog - Founder - President - Chief Tasting Officer, Chairman of the Board since 2007
Daffy Dog - Vice President - Head of Product Developement, Co-Chief Tasting Officer, Board Member since 2008
EJ (aka "Food Guy") - Co-Founder - Vice President - Chief Financial Officer - Head of Quality Assurance, Board Member since 2007



Augie and Daffy - Feb '09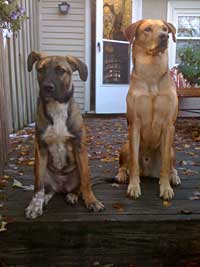 To maintain the highest quality standards for all of our products.
To always offer a higher quality product at competitive prices.
To enrich the lives of all dogs through education and outreach.
Our business was founded in 2008 when we decided to "go public" with some of our doggy tested and doggy approved family recipes. Initially we were just giving them away to friends and relatives who had dogs. We would just toss a few from our current batch of treats in a zip-bag and drop a few off as a nice treat for our furry friends now and then..... Response was immediately overwhelming. Everyone said the dogs went nuts for 'em (...no surprise to us), and all wanted to know... "what was in those things... and can I get some more ?

We began making and packaging our three favorite treats in small batches in our home kitchen. By carefully sourcing all of our ingredients for quality and freshness, and keeping our production overhead extremely low, we are able to offer our friends and extended pack members an extremely high quality treat, at a reasonable price.